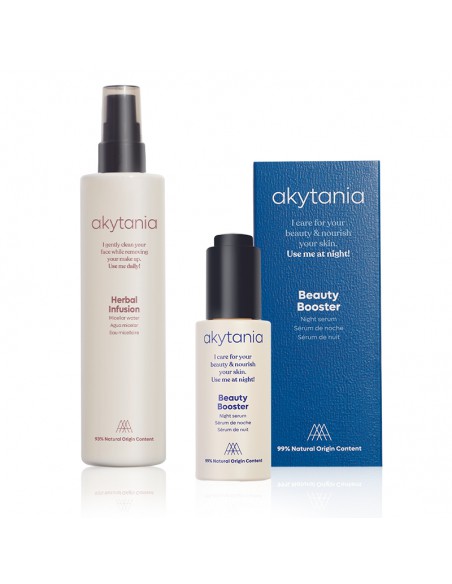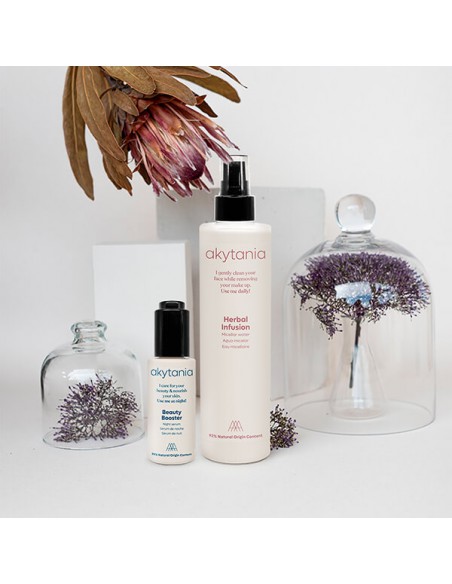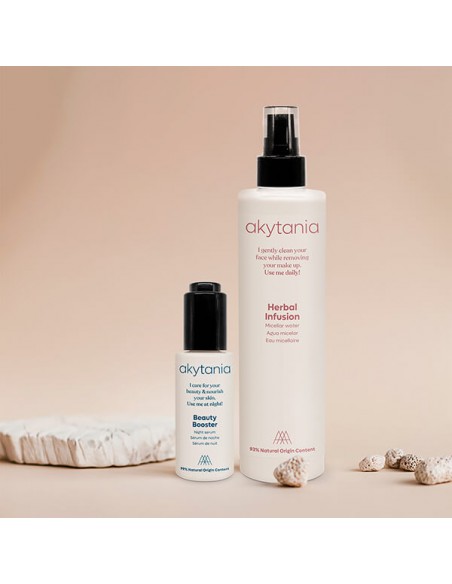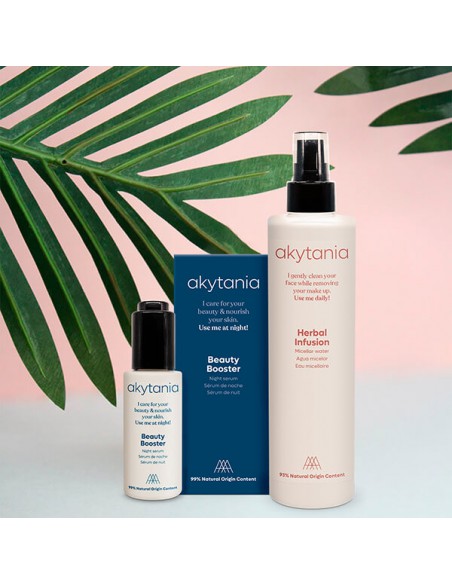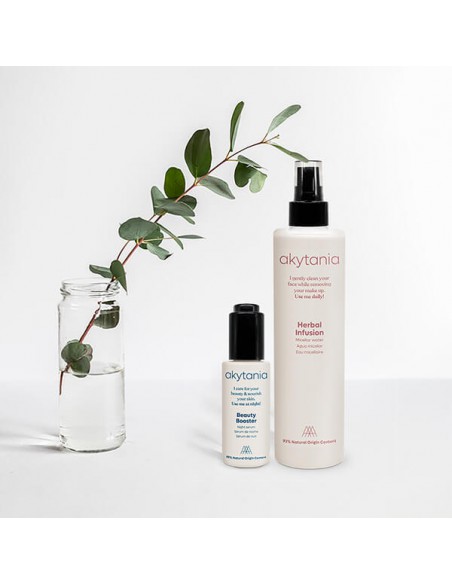 The Night Facial Cleansing facial routine is the perfect pack to ensure that the skin on your face is smooth, luminous and hydrated. A treatment that acts on two levels:
1) Herbal Infusion micellar water, thanks to its combination of micelles, deeply cleanses the skin without damaging the superficial layers, attracting dirt, makeup or skin impurities.
2) The Beauty Booster night serum has the property of regenerating the skin and recovering its natural balance with an antiaging and illuminating effect. Its active ingredients reduce the appearance of wrinkles, providing a firm, luminous and highly vital appearance. 
Excellent facial routine of our natural cosmetics created with vegan and #crueltyfree products, sustainable and environment-friendly. Suitable for all skin types.
Rejuvenating effect
Treatment of hydration and nutrition of the skin
Exfoliates, moisturizes and repairs the skin
Increased elasticity by 70%
21% decrease in forehead wrinkles
85% of users find their skin smoother and less tight
For all skin types, oily, dry, combination and sensitive skin
250ml / 30 ml | PET container and glass | Clinically and dermatologically tested and suitable for all skin types | Suitable for pregnant women
---
El mejor limpiador con sérum
---
Tan bueno que no parece natural!!
---
Piel más limpia e hidratada
Visible benefits and results
Herbal Infusion micellar water is formulated from a perfect mix of high-tech ingredients. A stellar product which, in addition to cleaning the skin and eliminating impurities, provides extra hydration, care and prevention of possible skin discomfort thanks to the hyaluronic acid included in its formula.
The Beauty Booster night serum is formulated with an extraordinary combination of oils of natural origin that will provide you with a meticulous repairing care so that your face awakens rested, smooth and luminous. Its composition nourishes the skin while visibly reducing the signs of aging, providing a pleasant sensation of relaxation to the skin.
Its natural formulas are indicated for all skin types, reducing wrinkles and expression lines, achieving a luminous, smooth and hydrated skin.
An extraordinary formula
Herbal Infusion is a facial treatment to remove impurities from the skin without damaging the superficial protective layers while hydrating and regulating the pH. Its formula contains, in addition to micelles, extraordinary active ingredients that will make your cleaning routine super effective.
The Beauty Booster serum is a facial treatment to treat expression lines, fine wrinkles and the lack of hydration of the skin of the face, neck and décolleté. Its formula contains extraordinary actives that will achieve visible results almost immediately.
Innovation and naturalness 
At akytania we want you to fall in love with our products. With this goal, we have developed natural products that take care of your skin and your hair from the inside. In addition, we have combined the ingredients with stimulating aromas so that you can enjoy your care routine and it becomes a happy moment of the day. All our formulas are created from natural ingredients of Mediterranean origin.
At akytania we are committed to a natural beauty without filters, a beauty that takes care of your skin and your hair by giving it exactly what it needs.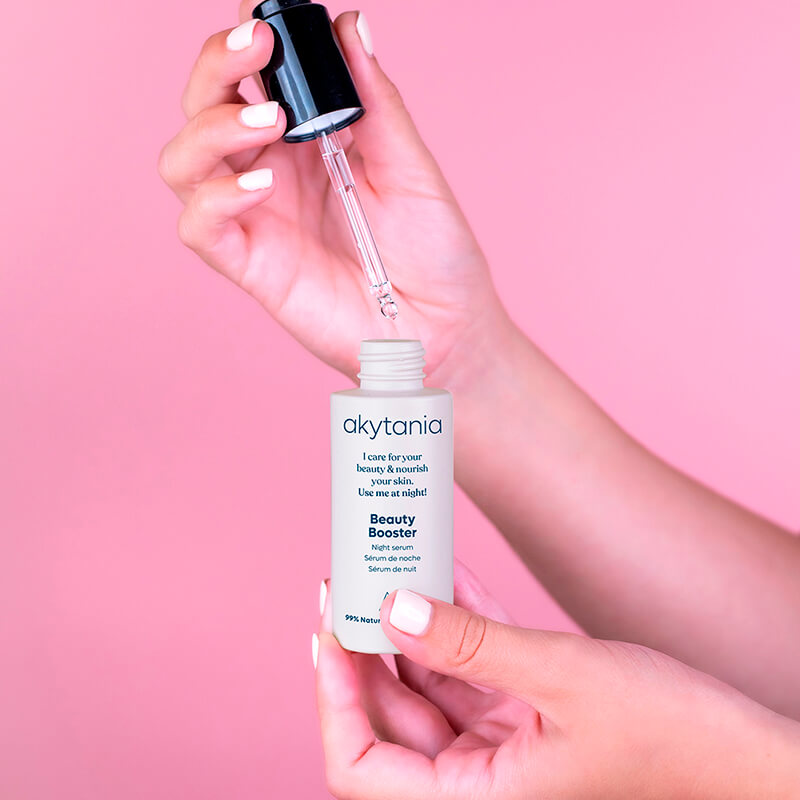 On dry skin with or without makeup, apply a few drops of Herbal Infusion on a cotton ball.
Spread the product gently over your face, emphasizing the makeup areas and cheekbones.
Repeat the process again, reusing the cotton (turning it over) or using a new one.
With clean skin, apply 3-4 drops of this night serum to the face and neck.
Use your fingertips to gently spread the product.
Pat lightly to stimulate skin absorption and smooth Beauty Booster Serum.
Avoid pulling the skin and rubbing too hard, let the product absorb by itself once you have smoothed it out.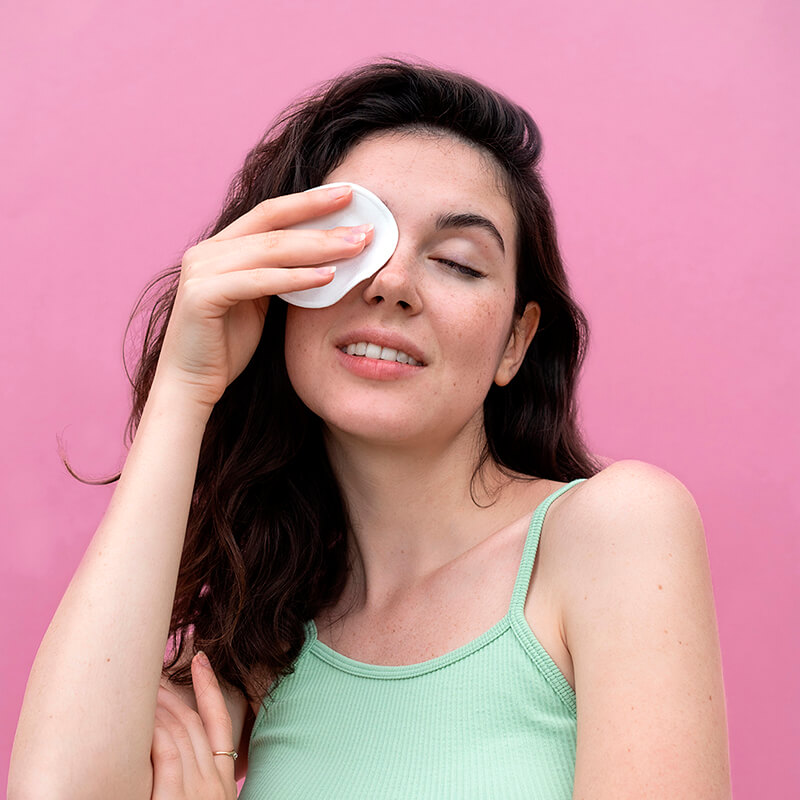 Up to 99% Natural
Origin Content
Herbal Infusion micellar water Ingredients: AQUA (WATER)(EAU), PENTYLENE GLYCOL, PEG-40 HYDROGENATED CASTOR OIL, PEG-6 CAPRYLIC/CAPRIC GLYCERIDES, TRIDECETH-9, BABASSU OIL GLYCERETH-8 ESTERS, CETRIMONIUM BROMIDE, DIPOTASSIUM GLYCYRRHIZATE, SODIUM HYALURONATE, CITRIC ACID, TETRASODIUM EDTA, ROSMARINUS OFFICINALIS (ROSEMARY) WATER, VERBENA OFFICINALIS FLOWER WATER, POLYGLYCERYL-4 CAPRATE, POLYGLYCERYL-6 CAPRYLATE, POTASSIUM SORBATE
Beauty Booster night serum Ingredients: COCO-CAPRYLATE/CAPRATE, ORYZA SATIVA (RICE) BRAN OIL, HYDROGENATED ETHYLHEXYL OLIVATE, ETHYL MACADAMIATE, HELIANTHUS ANNUUS (SUNFLOWER) SEED OIL, VITIS VINIFERA (GRAPE) SEED OIL, CAPRYLIC/CAPRIC TRIGLYCERIDE, HYDROGENATED OLIVE OIL UNSAPONIFIABLES, PARFUM (FRAGRANCE), TOCOPHEROL, LINALOOL, LUPINUS ALBUS SEED EXTRACT, SPILANTHES ACMELLA FLOWER EXTRACT, GERANIOL, LIMONENE, MALIC ACID
How do micelles work?
A micelle is a molecular grouping structure that makes water and oil emulsify. This allows dissolving the "insoluble" compounds, managing to act as a product with multiple properties that cleanses, tones and hydrates.
What is the night serum and what is it for?
A night serum is a moisturizing treatment that is characterized by having a high concentration of active ingredients and a liquid texture that favor rapid and deeper absorption. Its main benefit is its high efficacy in combating premature skin aging.
Is it suitable for my skin type?
Of course. Both Herbal Infusion and Beauty Booster are products formulated to be applied to all skin types. These are products with natural active ingredients that will activate the collagen and natural elastin of your skin, achieving a visible and delicate result.
How can I recycle my Night Facial Cleansing Ritual?
Case 

Bottle 

Label
Cap Cannula
¡Join our Newsletter!
GET A 10% DISCOUNT
¡Join our Newsletter!
GET A 10% DISCOUNT