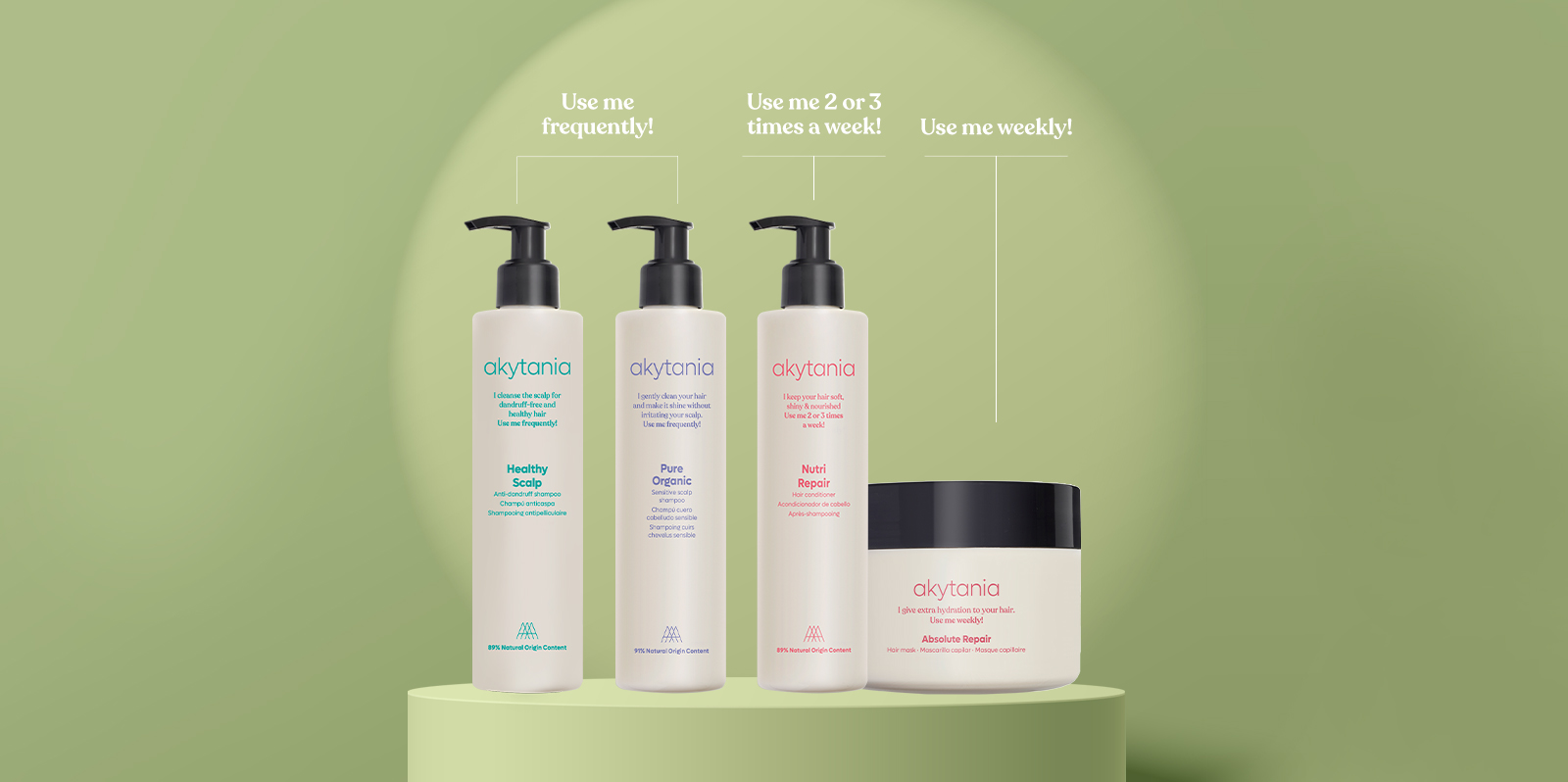 Get your natural products for the care of your hair with akytania.
The best vegan, healthy and sustainable natural hair products for hair care.
Our hair treatments are made without sulfates or chemical active ingredients and are scientifically tested. Ideal for all types of hair, it doesn't matter if you have oily, frizzy, dry, curly or damaged hair, since with the natural shampoo and conditioner you will combat hair frizz by providing extra hydration.
The key element to include in your hair routine and show off healthy and shiny hair is our repairing hair mask that you will fall in love with! You will be able to nourish, repair and protect your hair and scalp.
Enjoy natural hair cosmetics for men and women.
Discover all our natural hair products and enjoy +95% natural ingredients!
Did you know that hair care is an important part of your overall health? Good nutrition and healthy habits influence the way hair looks and feels. Proper hair care helps keep hair soft, shiny and healthy. Specialized hair products such as shampoos, conditioners, nourishing masks, or sunscreen can be helpful in maintaining the natural beauty of the hair. There are also professional treatments such as perms, dyes or straighteners that can visually improve the appearance of hair if used correctly. Proper hair care also prevents more serious lifestyle-related problems like excessive hair loss, excessive frizz, or heat damage. Therefore, it is important to pay attention to the regular care of your hair in order to enjoy a healthy and radiant appearance for many years.
Are you looking for an effective way to improve the health and appearance of your hair? Then a hair mask is exactly what you need! The akytania Absolute Repair hair mask is a product designed to provide your hair with the essential nutrients to keep it healthy, strong and with a natural shine. The Absolute Repair hair mask can help you reduce the damage caused by environmental factors such as solar radiation or polluting agents. It also deeply hydrates the hair, helping restore its elasticity and resistance.
The Absolute Repair repairing hair mask is a hair repairing treatment that reconstructs the proteins, amino acids and minerals that are essential for the hydration of the physical structure of the hair. It repairs the outer layers of the hair and provides shine, softness and natural balance to the locks. The exclusive formula includes natural ingredients such as Keratin and Seaweed extracts that provide protection and softness to the hair.
The Absolute Repair repairing hair mask helps keep hair strong and resistant, repair and nourish it, super hydrate it, and give it natural shine and softness.
Have you ever wondered what a hair conditioner is for? A good conditioner like Nutri Repair repairing hair conditioner is the key to caring for your hair and a way to keep it healthy, shiny and soft. Conditioners are used after shampooing to help untangle hair without damaging it, as well as to provide deep hydration. This means that the ingredients in your conditioner are very important; they must work together to restore the hair's natural moisture, replenish vital nutrients, and protect against damage caused by external factors such as sun or outdoor exposure. Hair Conditioner also helps to seal open hair cuticles during the shampooing process. This reduces water loss and improves the overall texture of the hair making it much more manageable. The result: healthy, silky and shiny hair with less frizz and irritation on your scalp!
The Nutri Repair repairing hair conditioner is a natural product designed with a special formula with Hyaluronic Acid to repair the hair fiber, providing immediate hydration and achieving shiny, soft and nourished hair. The hair fiber will absorb the nutrients and become stronger and more flexible, avoiding breakage.
The Nutri Repair repairing hair conditioner helps achieve a moisturizing effect on the hair, strengthen the hair fibers, and get a shiny and soft result on your hair.
Its natural perfume with an incredible citrus aroma with bergamot and blackcurrant combined with floral notes of jasmine and sweet notes of vanilla and patchouli will enchant you.
Are you looking for the perfect shampoo for your hair? Choosing a good shampoo can be the difference between having healthy and shiny hair or dull hair with a tendency to break. Proper hair care starts with choosing the right product. Following the necessary steps to choose the right shampoo is essential to maintain hair health.
A good shampoo helps gently clean without damaging hair roots or drying hair out. In this way, you can enjoy a strong, silky and tangle-free hair every day. To find the best product adapted to your needs, it is important to take into account several factors such as the type of hair you have: whether it is dry or oily; if it is dyed or natural; if you wear it short or long... All these elements are key to identifying which ingredients work well for your hair or not.
The Pure Organic natural shampoo for sensitive scalp, with 91% natural ingredients incorporates an exceptional concentration of Calendula, Aloe Vera and Pineapple that help improve the health and nutrition of the hair, acting directly from the roots to the ends. With each use you will notice a pleasant sensation of renewal and revitalization of your hair, and your scalp will be healthier.
Pure Organic natural shampoo for sensitive scalps helps cleanse the hair in depth, fights flaking, regulates excess hair oil, and does not irritate the skin or damage the hair, leaving hair shiny and silky.
The Healthy Scalp natural anti-dandruff shampoo contains 89% natural ingredients, formulated to combat the onset of dandruff. The use of akytania natural anti-dandruff treatment shampoo helps eliminate existing dandruff, prevent its future appearance and soothe itching that occurs on the scalp due to it.
Healthy Scalp Natural anti-dandruff shampoo is sulfate and paraben free.
Formulated with Calendula and Chamomile Extract that help prevent the effects that induce irritation and the itching sensation, as well as antiseptic and anti-inflammatory properties.
The scalp is permanently renewed. Dandruff is produced by the massive flaking of the scalp, forming visible corneal particles. Scalp flaking is a physiological process that generates microscopic corneal particles, which are not visible to the human eye. This is a problem for the scalp and skin.
The use of the Healthy Scalp natural anti-dandruff treatment shampoo helps cleanse the hair, combat flaking, eliminate dandruff, soothe itching caused by it and helps prevent the reappearance of dandruff.