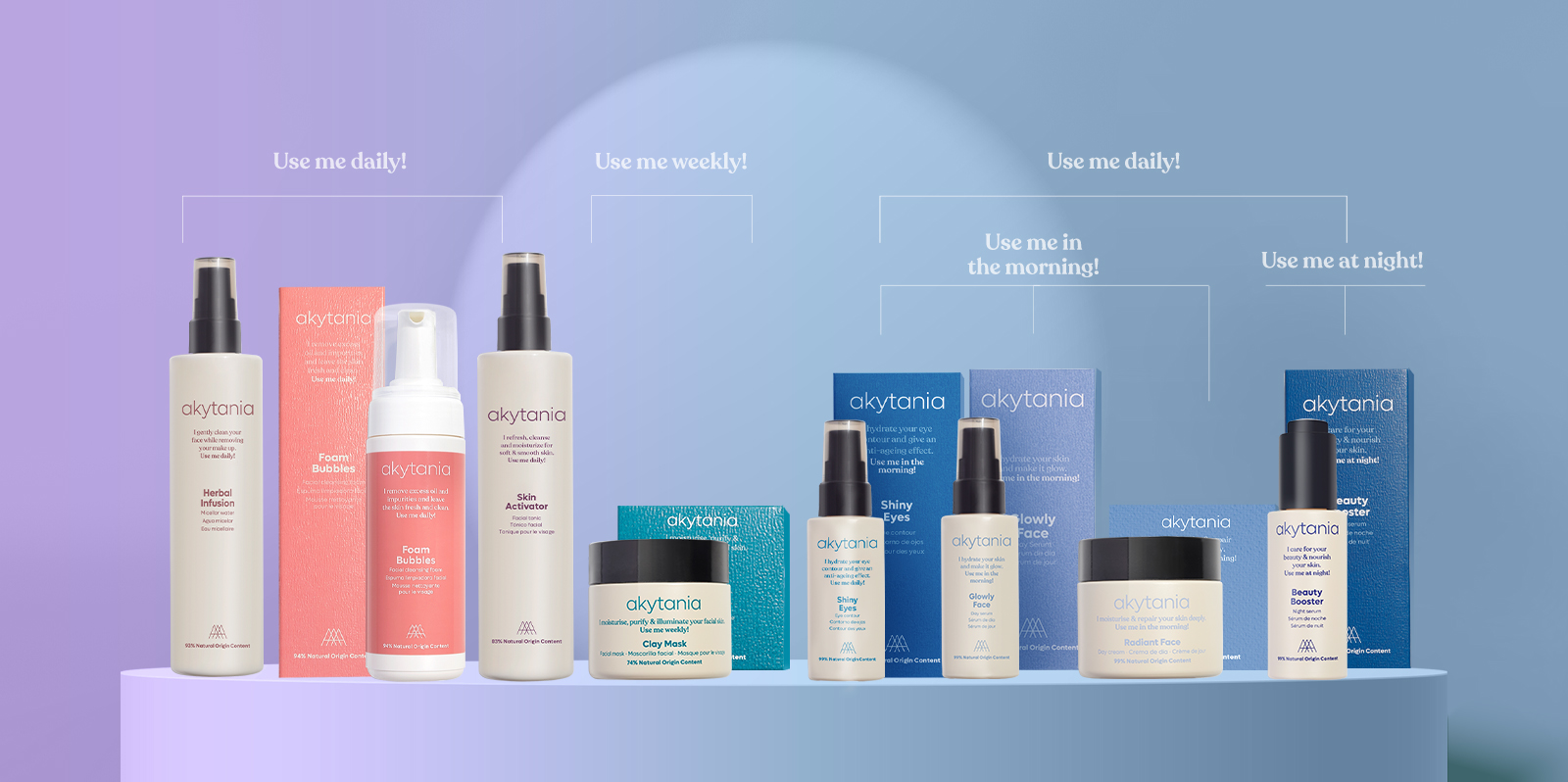 Get your most natural facial care with the best vegan, healthy and sustainable products at your fingertips with akytania.
On our website you can find the best natural products for your face routine and get excellent facial care.
With our natural products added to your daily facial routine, you can treat facial blemishes, acne and any type of skin, and achieve a perfect combination of natural cosmetics for facial care.
Start caring for your skin whether it is dry, combination or oily skin with natural ingredients and active ingredients to show off a naturally radiant face.
Skin care begins with a facial cleansing with micellar water and extra hydration with the day serum and the night serum to care for the face and achieve a perfect complexion.
Add our different products to your facial treatment: facial toner, facial cream and eye contour to achieve a double deep facial cleansing and nourish the skin, providing firmness and softness.
Are you looking for a facial care routine that will help you look better and have healthier skin? Then you are in the right place. At akytania's website you will learn about the perfect complete facial routine, and how to apply this simple daily routine to keep your facial skin radiant, from cleansing to hydration.
Learn the steps you need to follow to create your daily morning routine and your nightly routine. By following the right advice and knowing these simple routines, you will enjoy a clean face, and you will not waste money on expensive and useless products. Don't wait any longer to discover the benefits of carrying out a good daily facial skin care routine!
Natural products are a great option for your facial routine, as they offer nourishing and healing benefits without the harmful chemicals found in many commercial brands. Natural ingredients have anti-inflammatory, antioxidant and antibacterial properties that help reduce redness and irritation, while providing the skin with deep hydration.
Daily facial skin cleansing routine, to be used before the your daily facial routine and nightly facial routine.
Remove make-up with Herbal Infusion micellar water for daily use
Make-up can be removed in many ways, but our best recommendation is to follow a daily facial skin cleansing routine with facial cleansing products.
The first product in the facial cleansing routine is akytania's Herbal Infusion micellar water to remove all traces of makeup and impurities.
This deep facial cleansing with the facial cleansing routine of akytania products is recommended to remove all types of makeup.
With a deep facial cleansing, blackheads and pore obstructions are eliminated and the correct regulation of sebum in the facial skin is favored.
Foam Bubbles daily facial cleansing foam
With the Foam Bubbles facial cleansing foam we will eliminate any residue that may remain after cleaning with the Herbal Infusion micellar water.
Apply Foam Bubbles facial cleansing soap on facial skin by rubbing it with your fingers and massaging in circles for at least one minute.
Once applied to the skin, remove the Foam Bubbles facial cleansing soap with plenty of water or a damp make-up remover pad.
Skin Activator daily facial toner
akytania's Skin Activator Frequent Use Facial Toner will help purify, tone and soothe the skin.
Its natural formula helps eliminate toxins, close pores and relieve skin irritation.
akytania's Skin Activator frequent-use natural facial toner refreshes the skin, readying it for hydration, with active ingredients that help eliminate toxins, close pores and relieve facial skin irritations.
Skin Activator Frequent Use Natural Facial Toner is formulated to help prepare facial skin for hydration. The use of this facial toner helps prevent excessive drying of the skin, with an effect that helps to calm, tone and balance the face.
Your skin clean and free of impurities with the Clay Mask face mask.
Use it once a week!
The Clay Mask facial mask helps remove impurities and hydrate the skin. The active ingredients of the Clay Mask facial mask help eliminate impurities and regenerate the skin, while helping control fat and acne secretion, and contributing to provide luminosity and softness. Clay Mask also helps hydrate and nourish facial skin in a natural way, and helps achieve a refreshing, revitalizing and antiaging effect.
Once your skin is clean and ready to hydrate, nourish and protect:
First, enhance your gaze with the Shiny Eyes daily use eye cream
The Shiny Eyes eye contour cares for your gaze on three points: dark circles, wrinkles and eyelids.
It helps rejuvenate your look, counteract the causes that produce the appearance of dark circles and raise the eyelid. Additionally, its formula provides an anti-aging, anti dark circles and illuminating effect with visible results after 15 days.
Glowly Face Day Serum and Beauty Booster Night Serum.
The Glowly Face daily use day serum will provide you with immediate, intense and long-lasting hydration. Its formula, enriched with powerful antioxidant and moisturizing active ingredients prevents and reverses the signs of skin aging. In addition, it achieves a muscle-relaxing effect and a high reduction in expression lines.
The Beauty Booster night serum is formulated with an extraordinary combination of oils of natural origin that will provide you with meticulous restorative care so that your face wakes up rested, smooth and luminous. Its composition nourishes the skin while visibly reducing the signs of aging, providing a pleasant sensation of relaxation to the skin.
An extra for daily hydration: Radiant Face day cream.
Radiant Face daily use facial cream helps provide long-lasting hydration for soft, smooth and healthy skin, with active ingredients of natural origin that help deeply hydrate and nourish facial skin, improving its flexibility and providing protection.