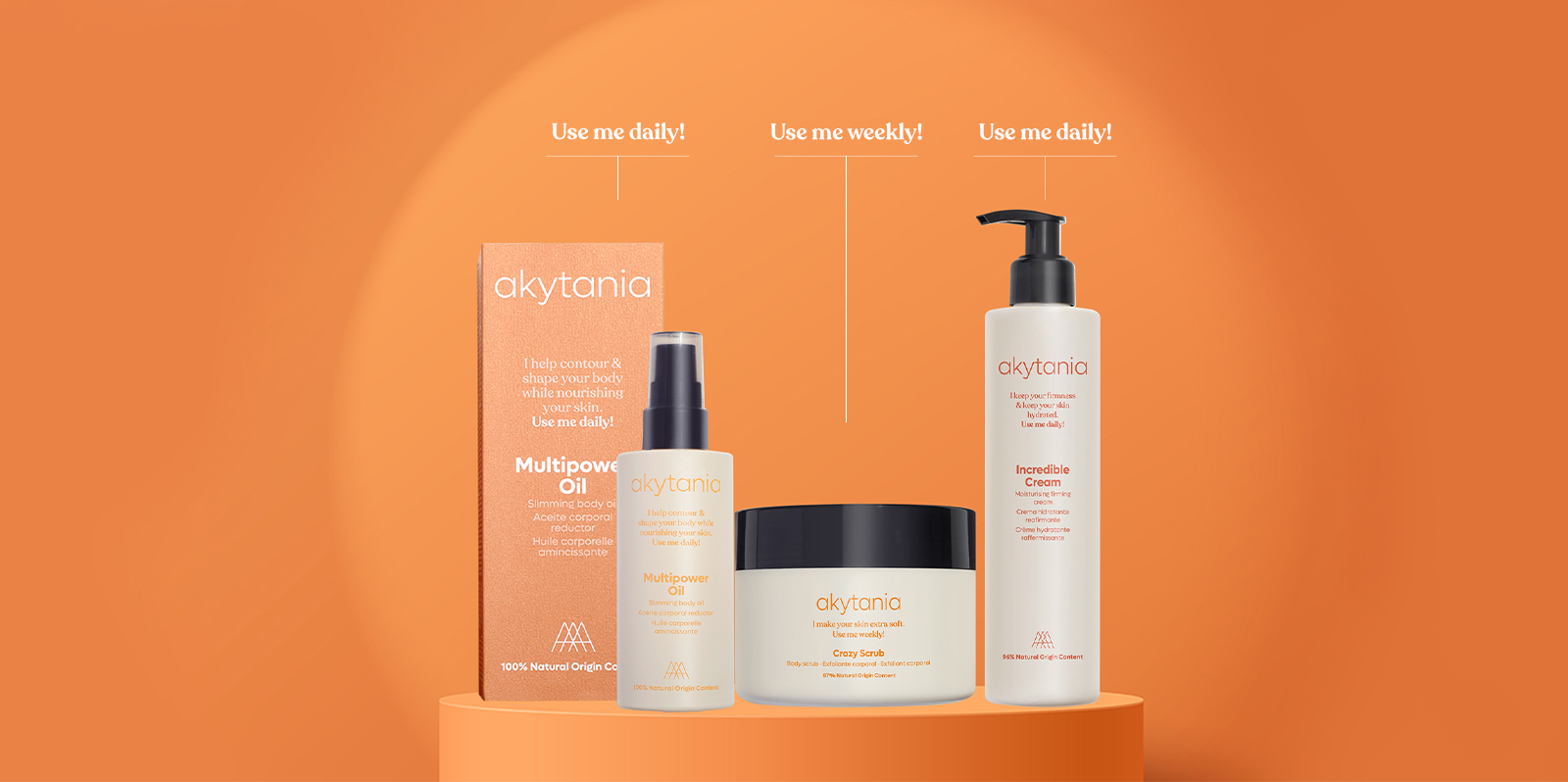 The best natural cosmetics for body care with +95% natural, healthy and sustainable ingredients with akytania.
Innovative formulas for all skin types, including atopic and sensitive ones.
Get body care with natural vegan cosmetics and take care of your skin with our reducing body oil, firming cream and body scrub suitable for all skin types, whether oily, dry, dehydrated or sensitive skin. It helps reduce stretch marks, skin blemishes and achieve an anti-cellulite treatment effect, providing firmness and hydration to your skin.
Discover the best products for a body treatment with the best skin care product to complete your routine, the body scrub, cleanses, exfoliates and softens your body, from head to toe, with natural ingredients of the best quality and get a extra hydration with our body oil and firming cream.
All our elaborations are scientifically tested with visible results in 14 days.
In cosmetics for body skin care, we always talk about three main products: the body scrub, the moisturizing body oil and the moisturizing body cream.
Each of these body care products has its function.
A body scrub is a great way to remove dead skin cells and keep your skin soft and smooth.
Moisturizing Body Oil is ideal for hydrating the skin without adding excessive oiliness.
Moisturizing body cream helps lock in moisture throughout the body to prevent dryness and irritation.
At akytania we wanted to create the best range of skin care cosmetics for your body. Discover them.
Crazy Scrub Moisturizing Body Scrub is the perfect solution among natural products to remove dead cells that accumulate on the skin's surface. It favors the cell renewal process, helps in microcirculation and drainage to achieve a more beautiful, luminous and homogeneous skin. This is made possible by its natural formula of Rice Oil, Sweet Almonds, Orange Seed and Olive Stone.
Crazy Scrub moisturizing body scrub, in addition to being the perfect solution to eliminate dead cells, is the perfect solution to leave your skin soft, super-hydrated, silky and velvety.
Do you want to know the benefits of using the Crazy Scrub body scrub? The Crazy Scrub body scrub has a dense texture but is easy to spread on the skin to help remove dead cells and renew the skin, providing super hydration to the skin and leaving the body skin silky and velvety, helping achieve a more toned skin (ideal for that much-desired tan for summer).
The Crazy Scrub body scrub is a perfect combination that hydrates your skin while removing dead cells, improving cell renewal and skin texture. In addition, it has an anti-aging effect as it activates circulation and promotes tissue oxygenation. Among its multiple properties, the release of toxins through the pores of the skin stands out, which will ensure that any beauty product that you apply after the scrub will have better absorption. It also has a great effect on the pores, helping avoid ingrown hairs from waxing. A must have in your care and beauty routine.
The secret that makes Crazy Scrub Body Scrub unique is its moisturizing power. How do you get a body scrub to help hydrate the skin? Exfoliate the untidy area for two minutes with gentle circular movements and then leave it on for 2 minutes.
The Incredible Cream firming cream helps combat the loss of firmness and elasticity of the skin.
Its main objective is to tone, smooth and reinforce the surface of the skin, helping the regeneration of tissues that have lost their firmness.
The awesome formula of the Incredible Cream moisturizing body cream contains more than 95% ingredients of natural origin.
This moisturizing body cream contains a mixture of Hyaluronic Acid, Sunflower Oil, Aloe Vera, Verbena Water, Rosemary and Ginger Extract, it creates spectacular results on the skin.
Incredible Cream moisturizing body cream helps stimulate collagen production, restore skin elasticity, and eliminate toxins. In addition, the moisturizing body cream helps tone and strengthen the skin.
The importance of natural and vegan body care?
akytania body care products with natural cosmetics are vegan and sustainable. We take advantage of all the naturally-derived and vegan nutrients to create the perfect skincare products for all skin types and genders.