The secret of Multipower Oil Firming Oil and Crazy Scrub Exfoliator
In today's world, taking care of our skin has become a priority.
From akytania we present two exceptional products that will help us keep our skin soft, radiant and revitalized. In this article, we will explore the Crazy Scrub body scrub and the Multipower Oil slimming and firming body oil in detail.
Find out how these products can transform your body care routine and give you a unique skin care experience.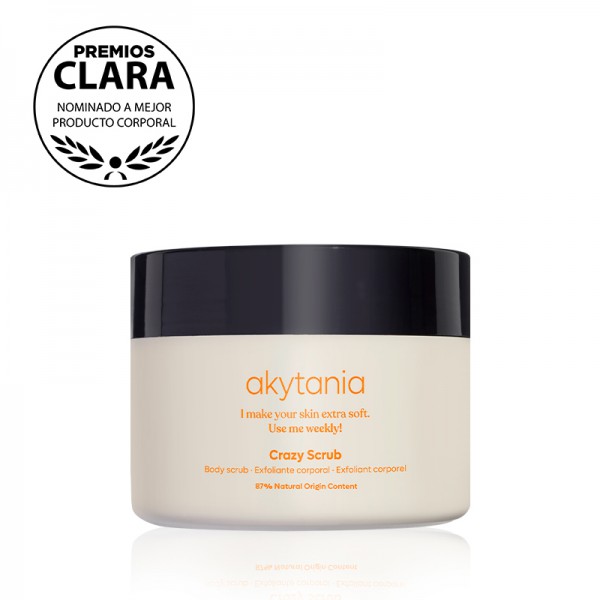 Crazy Scrub Exfoliating Body Scrub:
Crazy Scrub Body Scrub is one of our jewels in the world of skincare. Designed to gently remove dead skin cells and revitalize skin, this exfoliating Scrub is perfect for those looking for smooth, radiant skin. Using high-quality, naturally derived ingredients, Crazy Scrub offers an exfoliating experience that will leave you feeling refreshed and renewed.
One of Crazy Scrub's standout features is its unique texture. The exfoliating particles from the olive bone present in this product have the right size and texture to remove impurities from the skin without being too abrasive. This is especially important, as overly aggressive exfoliation can cause damage to the skin. Crazy Scrub offers a perfect balance between effective exfoliation and gentle skin care.
In addition to its texture, Crazy Scrub has a combination of ingredients of natural origin that provide numerous benefits for the skin. The presence of ingredients such as sea salt and sweet almond oil help soften and nourish the skin, leaving it plump and radiant. These ingredients also help improve overall skin texture and reduce the appearance of cellulite.
Another highlight of Crazy Scrub is its refreshing fragrance. The combination of citrus and mint creates a unique sensory experience during exfoliation. The freshness of the mint mixes harmoniously with the citrus notes, providing a revitalizing sensation that will leave you with energy and vitality. The fragrance lingers on the skin even after rinsing, allowing you to enjoy a spa-like experience in the comfort of your own bathroom.
How to exfoliate the body?
When you are in the shower with wet skin, take a small amount of Crazy Scrub exfoliating scrub and place it in the palm of your hand.
Use your fingertips to gently spread the product over the desired areas.
THE SECRET: Wait two or three minutes for its moisturizing effect to take effect on your skin. You will notice your skin with an hydration and softness that will surprise you!
Remove Crazy Scrub with plenty of water and dry as usual.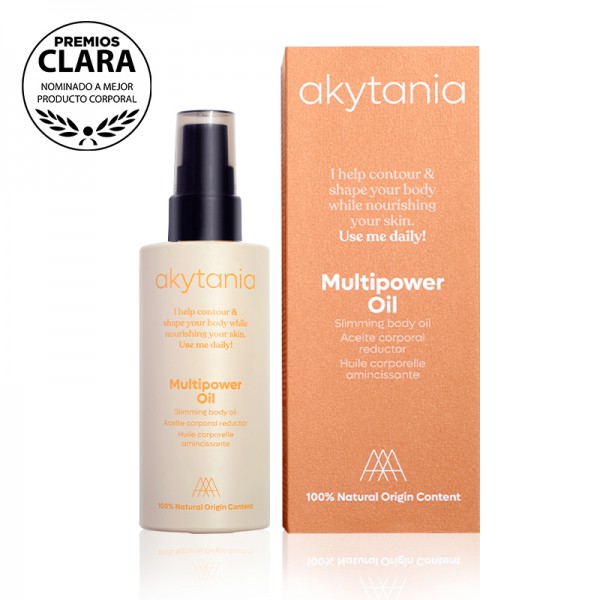 Slimming and firming body oil Multipower Oil:
Complementing the Crazy Scrub body scrub, we present the Multipower Oil slimming and firming body oil.
This luxuriously enriched body oil is designed to help you achieve firmer, more toned skin. Its unique formula, combined with regular application and gentle massage, can improve the overall appearance of the skin and provide visible results.
Multipower Oil contains a combination of ingredients of natural origin that work in synergy to combat cellulite and sagging skin. Grapeseed oil, known for its antioxidant properties, helps strengthen and firm the skin, while rosemary oil stimulates circulation and helps reduce fluid retention. These ingredients are combined with other natural botanical extracts to offer a powerful and effective formula.
Like Crazy Scrub, Multipower Oil body oil also has a delicate and pleasant fragrance. The soft blend of natural scents, including hints of citrus and fresh herbs, adds a touch of luxury to your body care experience. The application of this oil is a moment of pure delight, as it glides smoothly on the skin and is quickly absorbed, leaving a feeling of hydration and softness.
Massage with Multipower Oil not only helps to improve the appearance of the skin, but also promotes relaxation and well-being. The act of gently massaging the oil into the skin stimulates blood circulation and can help reduce muscle tension. It's a great way to take time for yourself and enjoy a moment of self-care.
In addition, Multipower Oil firming body oil has an efficacy test carried out in an independent study and the results have been as follows:
After 28 days of use (4 weeks) – objective scientific assessment:
- Average increase in firmness of 55%
- Average cellulite reduction of 48%
- Increased elasticity by 8%
- Decreased thigh circumference by 3%
After 28 days of use (4 weeks) – subjective assessment of the users:
- 94% of users say they would buy this product for their daily body routine
- 90% note the skin is more hydrated and nourished
- 80% of users notice smoother and less tight skin
- 45% notice a decrease in cellulite
- 48% note that their figure is more modeled and an improvement in the area
Crazy Scrub body scrub and Multipower Oil slimming and firming body oil are true treasures in the world of body skin care. These products not only offer visible results, but also provide a unique sensory experience that transports you to an oasis of freshness and vitality.
Crazy Scrub Body Scrub allows you to enjoy soft and radiant skin thanks to its carefully crafted formula and refreshing fragrance. On the other hand, Multipower Oil body oil helps you tone and firm the skin, while giving you a moment of relaxation and personal care.
Discover freshness and vitality with Crazy Scrub and Multipower Oil from akytania. Include these products in your body care routine and experience the transformation they will bring to your skin. akytania is proud to offer high quality products that take care of your skin in an effective and pleasant way. Don't miss the opportunity to pamper yourself with these exceptional products and enjoy radiant and healthy skin.