What is a Facial Serum?
Facial serum, what is it?
At Akytania we have different facial, body and hair natural cosmetic routines for all types of skin and hair.
On this occasion we are going to spend some time talking about facial serums, the different options for facial serums, how to apply them and how to combine them within your cleansing and facial care routine.
As you already know, all akytania products are suitable for all skin types. So you are sure to find a facial routine that suits you.
What is a Facial Serum?
Surely you have heard a thousand times "Facial serum, what is it?". Everyone recommends the use of facial serum... The use of facial serum has become an essential part of any facial routine. But why is it so popular?
A facial serum is a concentrated action product. At akytania you can find the Glowly Face day serum and the akytania Beauty Booster night serum.
Let's take a look at the properties, benefits and way of use of a facial serum. The first step is to know how to prepare the skin with a facial routine of products for a complete facial cleansing in order to leave the skin ready for the application of any subsequent treatment.
If you are looking for a facial routine, enjoy akytania spectacular line of facial products: Herbal Infusion Micellar Water, Glowly Face Day Serum and Beauty Booster Night Serum, together with akytania's Perfect Skin facial routine. Two serums to care for the skin, moisturizing and nourishing it in depth. Vegan and #crueltyfree formula, sustainable and respectful with the environment. Suitable for all skin types.
The Perfect Skin facial routine is the perfect pack to ensure that the skin on your face is smooth, luminous and hydrated. Unite the benefits and results of each product in your favorite facial cleansing routine:
1. Herbal Infusion micellar water cleanses the skin in depth without damaging the superficial layers, thanks to its combination of micelles that attract dirt, makeup and skin impurities.
2. The Glowly Face day serum is a treatment that acts during the day by preventing and reversing cellular aging, increasing skin firmness and notably reducing the action of free radicals.
3. The Beauty Booster night serum has the property of regenerating the skin and restoring its natural balance with an antiaging and illuminating effect. Its active ingredients reduce the appearance of wrinkles, providing a firm, luminous and highly vital appearance.
Rejuvenating effect and healthy appearance:
• Increased elasticity by 70%
• 21% decrease in forehead wrinkles
• 85% of users find their skin smoother and less tight
• For all skin types, oily, dry, combination and sensitive skin
Herbal Infusion micellar water, thanks to its combination of micelles, deeply cleanses the skin without damaging the superficial layers, attracting dirt, makeup or skin impurities.
Don't forget to add the Foam Bubbles facial cleansing foam to your cart, the latest best seller from akytania.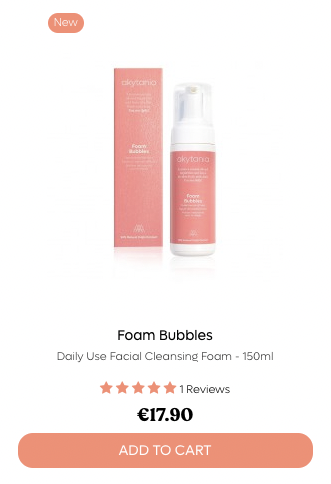 The Foam Bubbles facial cleansing foam, with 94% ingredients of natural origin, cleanses and removes residue and impurities, without irritating the skin, providing it with an extraordinary concentration of plant active ingredients. With each use you will notice a pleasant sensation of cleanness and hydration of your skin.
Perfectly clean and fresh skin
Deep hydration
Softness and flexibility in the skin
Does not dry or irritate the skin
We know the benefits and properties of the ideal products for a complete facial cleansing routine. We need to know how they are applied and combined with each other to achieve the best results.
Step 1. Remove make-up with Herbal Infusion micellar water.
Facial skin must be cleansed at the end of each day. Keep in mind that makeup is like a layer that covers the skin and does not allow it to breathe naturally. If we do not remove the makeup with adequate cleaning, the makeup could clog the pores of the skin and accelerate its aging. Tip: Don't sleep in makeup!
Facial skin can be cleansed in many ways, but the most recommended is to follow a daily facial cleansing routine with facial cleansing products.
The first product in the facial cleansing routine is the akytania Herbal Infusion micellar water with which we will remove all traces of makeup and impurities. With a deep facial cleansing, blackheads and pore obstructions are eliminated and the correct regulation of sebum in the skin of the face is favored.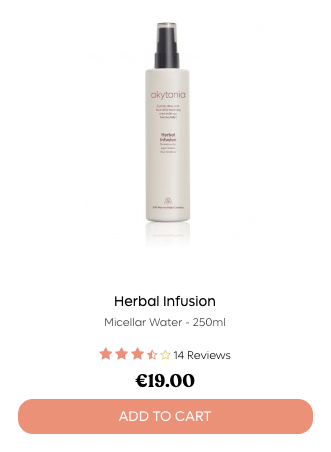 Step 2. Cleanse skin with Foam Bubbles Facial Cleansing Foam.
With the Foam Bubbles facial cleansing foam we will eliminate the impurities that may have remained after cleansing our face with the Herbal Infusion micellar water.
The latest released product at akytania is the Foam Bubbles facial cleansing foam. The application of the Foam Bubbles facial cleansing foam is done on the skin with the fingers massaging in circles for at least one minute.
Once applied to the skin, remove the Foam Bubbles cleansing foam with plenty of water.
Once we have clean skin thanks to the facial cleansing routine, we can apply the following treatment routines.
Step 3. Apply the facial serum.
We will apply Glowly Face day facial serum:
On a freshly washed face, apply two pumps of Glowly Face Day Serum to your hands and apply a few drops to your forehead, cheeks and chin. Apply to the face with a light massage in a smooth and even way and wait a few seconds for the product to finish absorbing completely.
We will apply Beauty Booster night facial serum:
With a freshly washed face, apply 3 or 4 drops of this Beauty Booster night serum to the face and neck, gently distributing the product with the fingertips. Then, pat lightly to stimulate absorption into the skin and smooth the Beauty Booster Face Serum across the face.
Step 4. Hydrate your skin with your usual day or night cream.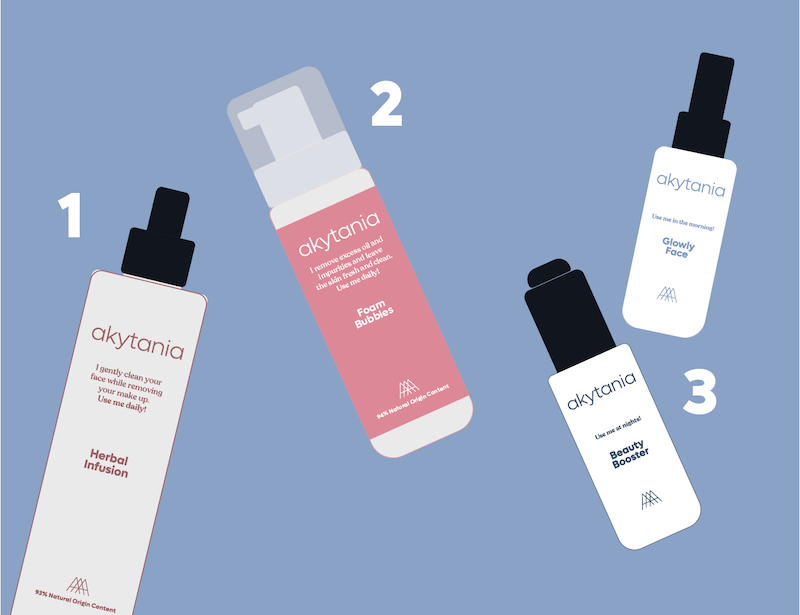 akytania pampers you, that's why we want to remind you that summer is here and we are already sunbathing on the beach or spending days in the pool. We recommend you read the post where we explain how to prepare your hair for summer.

Remember that by placing your order at the akytania online store you will benefit from:
FREE SAMPLES ON EVERY ORDER
FREE SHIPPING ALWAYS IN 24H/48H
FREE CHANGES AND RETURNS UP TO 15 DAYS